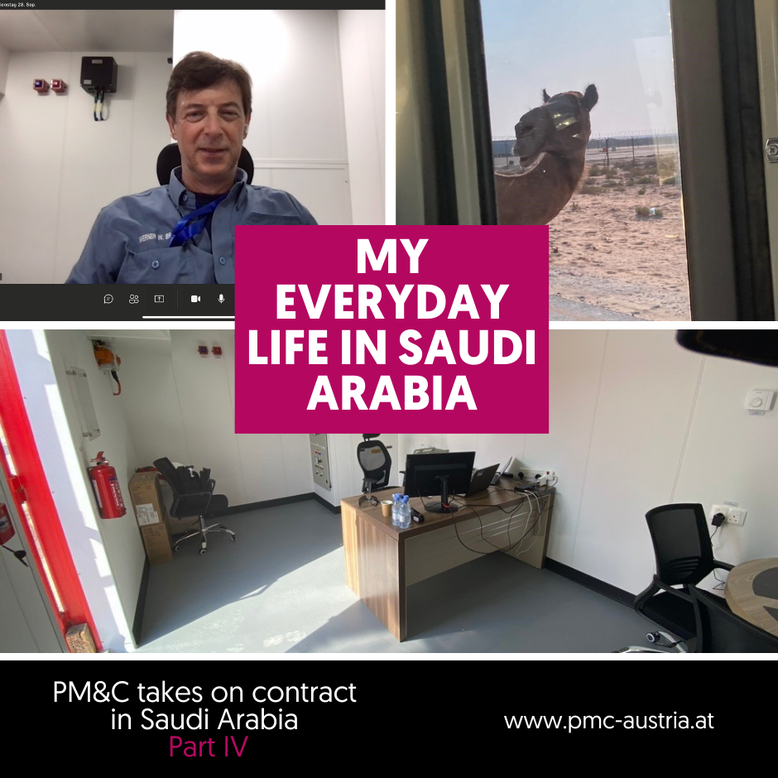 Jubail.
4:30 am: My alarm clock rings loudly.
I open my eyes, stretch, and jump out of bed. 
I pull aside the blackout curtains in the bedroom of my house, which is on the grounds of a secure camp. Outside, it's still dark – yet condensation is already making its way along the window again. 
Inside the house it's a cool 25 °C – I love my air-condition! 😊 
Outside, the temperatures climb steadily – a "heat battle" is in the offing. 
A short time later I sit showered and dressed in front of my freshly brewed instant coffee and pack up my equipment for today.
5:30 am: With big steps I hurry to the meeting point, because today I'm going to the construction site with the team bus.
All those waiting wear identical protective gear. The bus stops – several stops and 45 minutes later we reach the construction site. 
What follows: Registration, check-in, and obligatory security check.
Afterwards we sip a cup of coffee from freshly ground beans – delicious!
6:30 am: The morning meeting starts with safety masks – COVID-19 keeps us on our toes here, too – and obligatory safety distances at a balmy 28 °C. 
07:00 am: I move into my "neat" single office on the construction site without windows and rattling air conditioning and get to work on my 100 emails that have landed in my in-box overnight. Meetings and telephone conferences follow. 
In between, I visit the smoking area, because here I learn important information about the project status on an informal basis – how, where, and why something doesn't work or does work. Numbers and data explain a lot, but not everything.
12:00 noon: Spartan lunch consisting of "coffee and a cigarette" – I know, healthy nutrition looks different – but there is no time for that until the evening. 
Afternoon: There are more meetings and discussions, which result in further tasks of various kinds. 
5:30 pm: The bus takes me back to the secure camp.
6:30 pm: Now it's family time 😊. I call my loved ones at home via Facetime as the kids must go to bed soon and talk to my wife.
7:00 pm: Dinner. I prefer to cook myself and fresh – preferably rice or noodles with different vegetable variations and then healthy fruit – because the theme food in the camp restaurant is repeated and after a short time you know the entire menu.
8:00 pm: After dinner, I meet with colleagues for a relaxed chat outside or end the day with a light sports workout, because it's only 32 °C now 😉. 
9:30 pm: I close my blackout curtains – it's time to sleep, because "it's Groundhog Day".
PM&C: Competence for your project!