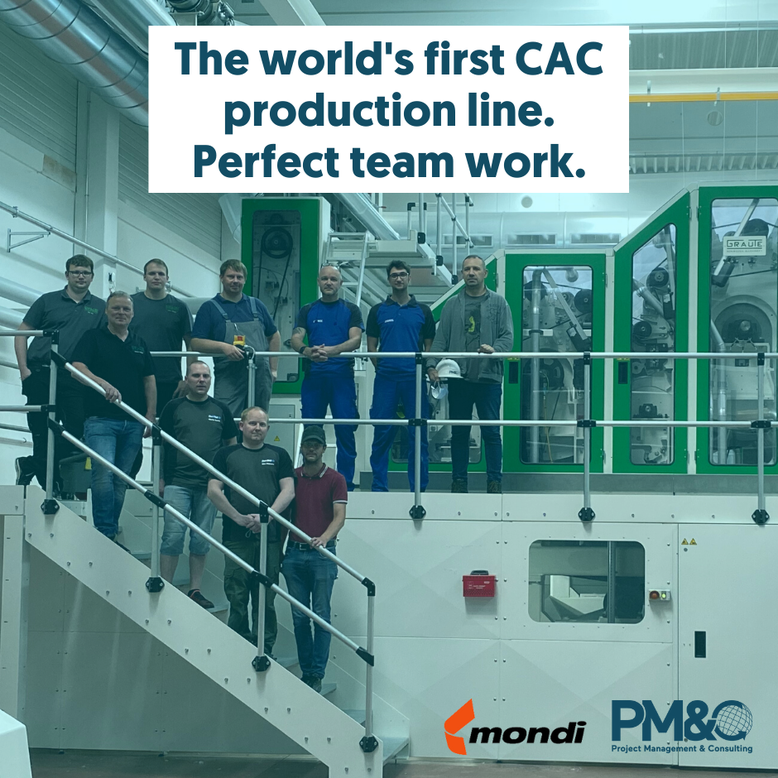 Recently, Mondi Ascania GmbH has opened the world's first CAC line in Aschersleben, Germany. This is the first machine of its type producing nonwovens based on composites of staple fibre and airlaid pulp: Medical wipes made from 100% natural raw materials and 100% biodegradable.
Excellent teamwork and experienced employees with a passion for their job made the implementation of this innovative CAC project with complex conditions possible.
If you succeed in bringing the best people together, as in the CAC project, you can reap the rewards of teamwork:
Creativity
When different minds work together on ideas, they find better and more sustainable and creative solutions.

Risk-taking
As a team, you can take risks because you can leverage the expertise of diverse talent. 

Trust
Trust is an important prerequisite for the free exchange of ideas and information without having to hide anything.

Faster and better results
Teamwork magically brings together complementary strengths and skills for better and faster results.

Accountability
In teams people feel more accountable because there are a lot of people who depend on each other's work.
We from PM&C took over the responsibility for handling the project and construction management for the CAC production line as well as the commissioning, performance test planning and implementation.
My special thanks go to
Raik Hüpfel, production manager at Mondi Ascania and responsible for process engineering. 
Christian Killian, Maintenance Manager, at Mondi Ascania. He was responsible for supervising the mechanical and electrical installation work, Mondi's own project contributions, and design inputs for the plant. He was also a member of the CAC project team from the very beginning.
all members of the project core team: R&D, QA/QC, Production Planning, Procurement, and Safety, Environment & Health.
everyone who contributed to the successful implementation of the world's first CAC production line including the technology suppliers Graute, Andritz and Danweb for the exemplary cooperation.
PM&C: Competence for your project!
About Mondi Ascania:
Moni Ascania GmbH is part of the Mondi Group and produces high-quality nonwovens and nonwoven materials that are mainly used for household and personal care products, hygiene articles and medical products. Mondi is a leading global packaging and paper group with a focus on being sustainable by design.