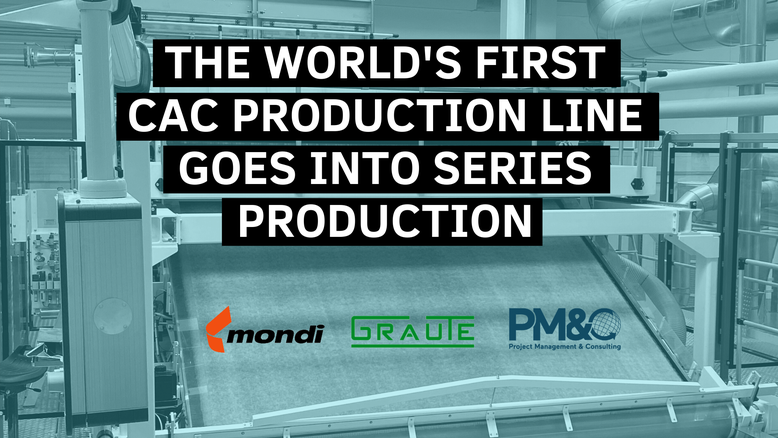 Medical wipes made from 100% natural raw materials and 100% biodegradable
Mondi Ascania GmbH has opened the world's first CAC line in Aschersleben (Germany). This is the first machine of its type producing nonwovens based on composites of staple fibre and airlaid pulp.
The mechanical engineering specialist for the nonwovens industry Graute GmbH from Senden (Germany) acted as general contractor.
PM&C from Vienna (Austria) successfully handled the project and construction management as well as the commissioning, performance test planning and implementation under the direction of Managing Director Werner Wirnsberger-Brandl.
The aim of the project was to build a production line that can produce a new type of nonwoven fabric for a wide variety of hygiene applications, which consists of 100% natural raw materials and is 100% biodegradable. The new material consists of 3 layers and was named after their production technologies: Carded Airlaid Carded (CAC).
The nonwoven layers are combined by hydroentanglement without the use of binders to produce materials that are 100% renewable, biodegradable and compostable.
The resulting nonwovens for medical wipes are a combination of viscose and cellulose. They are particularly hard-wearing and at the same time have a gentle feel due to the extremely stable 3D surface texture.
A big thank you to the entire Mondi Ascania and Graute project team and to Graute Managing Director Norbert Höltker for the excellent cooperation.
PM&C: Competence for your project!
About Graute:
Graute GmbH is a medium-sized mechanical engineering company that has specialized in the development and construction of machines for the nonwovens industry. The company develops machines for fiber opening, complete air lay and carding systems as well as fully automatic winding systems.
About Mondi Ascania:
Moni Ascania GmbH is part of the Mondi Group and produces high-quality nonwovens and nonwoven materials that are mainly used for household and personal care products, hygiene articles and medical products. Mondi is a leading global packaging and paper group with a focus on being sustainable by design.