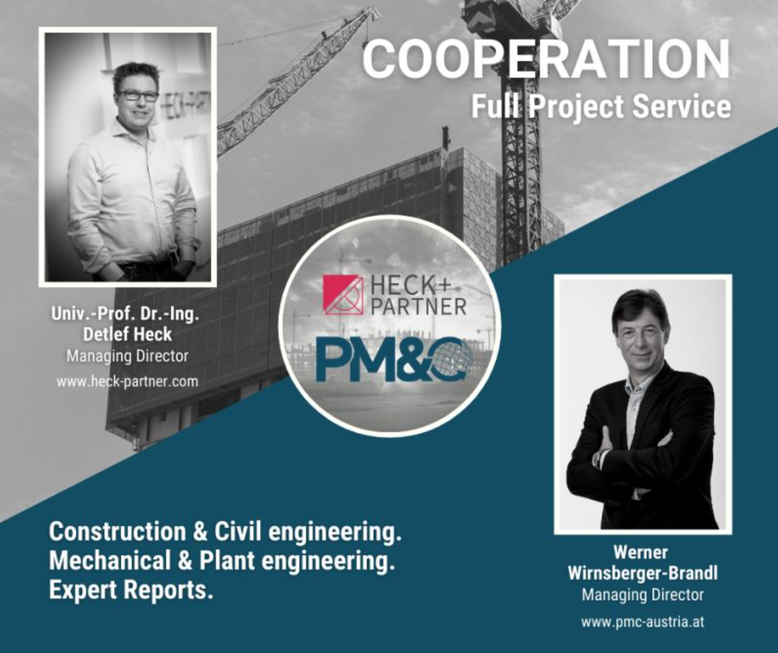 Full project service. Everything under one roof: Construction and civil engineering. Mechanical and plant engineering. Expert reports.
Cooperation PM&C – HECK+PARTNER:
Support with planning and delivery difficulties
Assessment of construction disruptions
Commercial assessment of justified and unjustified performance claims
Help with questions about the construction process and commissioning
Clarification of contractually owed services
When setting up construction and plant projects, there may be disruptions in the construction process or defects. Such issues can slow down the progress on a project, lead to disputes between client and contractor, and even the end of a project.
Certified experts ensure clarity and certainty so that the right decisions can be made quickly.
Werner Wirnsberger-Brandl, Managing Director of PM&C, has found a highly qualified, absolutely honest, and well-established expert on construction in Dr.-Ing. Detlef Heck, managing partner of HECK+PARTNER and University Professor at the Institute for Construction Management at Graz University of Technology.
The competence you need for your project!
Contact us.